38 in La Liga? Really? This is the number of goals footballer Cristiano Ronaldo has scored in the league this season, with one game to go. The world star was purchased from Manchester United in the summer transfer window for a staggering £80 million, making him the most expensive footballer ever. And he's sure making his mark in La Liga. He has now beaten the record for the number of goals in the Spanish league after scoring against Villarreal at the weekend.
Better than Messi? Not sure. Messi has also been hitting the net with 52 goals in 54 appearances this season. These two are definitely the best in the world at the moment in my opinion.
Speaking of Ronaldo, there are rumours that Manchester City want him for £150 million. It's ironic that they want to give this huge amount of money to Real Madrid, who are the richest club in the world. I doubt that he would leave them, Real Madrid are a fantastic team who I'm sure will win more trophies next season. Manchester City themselves have also won a trophy, the FA Cup, their first major trophy in 35 years. I'm sure they will win more in the coming years, what with the obscene amount of money they have, I won't be surprised if they bring in 2 or 3 more world class players in the summer.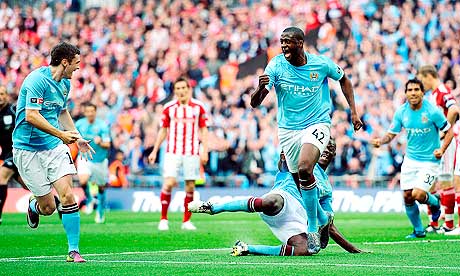 Time for predictions, here are mine for this weekend's final Premier League games:
Aston Villa 1-1 Liverpool
Bolton 0-2 Manchester CIty
Everton 2-3 Chelsea
Fulham 2-1 Arsenal
Manchester United 2-2 Blackpool
Newcastle 0-0 West Brom
Stoke 1-1 Wigan
Tottenham 2-1 Birmingham
West Ham 3-1 Sunderland
Wolves 1-0 Blackburn
Here I'll leave you with a short video on Ronaldo's record
Cheers guys, thanks for reading :)